Last updated: January 2020
simplyEstate provides Executors, Administrators and Next of Kin with a number of useful Checklists & Tools to help with the deceased estate administration. Simply review each and download the ones that you need to your computer.
If you experience any issues with the Checklists & Tools, please email us and we will be happy to help.
You will need Adobe PDF Reader, Microsoft Office Word and Microsoft Office Excel installed on your computer to view and complete forms, documents, checklists and tools available on this website.

links to PDF documents look like this

links to Word documents look like this
links to Excel documents look like this
simplyEstate Assets & Liabilities Inventory
Capture all the home contents, personal belongings, real estate, other assets and liabilities to automatically calculate the total value of the deceased estate for distribution to all Beneficiaries as inheritance.
Home Contents & Personal Belongings Inventory
Capture all the home contents and personal belongings of the deceased person before clearing the home to capture all valuables that form part of the deceased estate for distribution to all Beneficiaries as inheritance.
Testamentary Costs & Expenses Tracker
Capture all costs and expenses incurred while administering the deceased estate to seek reimbursement for applicable costs from the estate prior to distribution to all Beneficiaries as inheritance.

Executor/Administrator Timesheet
Capture all the time spent on deceased estate administration tasks to seek compensation from the estate where appropriate prior to distribution to all Beneficiaries as inheritance.

Inheritance Assessment Without a Will
Determine who the likely Beneficiaries of the Deceased Estate and likely inheritance based on the intestacy rules for your State/Territory may be when no valid Will is in place (intestate).
Simply answer a few questions and email your result by completing your details and clicking send.
simplyNotify - Notify Service Providers
Tick all Service Provider the deceased person used and simplyEstate will then notify these of the passing to close accounts, stop payments, transfer funds to the estate and request to contact you directly to finalise the administration process.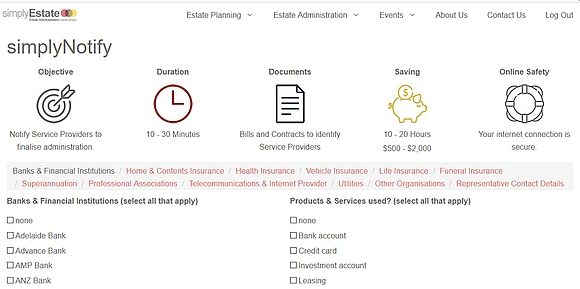 The simplyEstate Estate Administration Overview, will provide a summary of the key Steps to successfully administer a deceased estate.
The simplyEstate Document Checklist will provide you a handy checklist when you are looking for important documents.
The simplyEstate Beneficiary Statement will support Executors and Administrators to inform each Beneficiary about the inheritance prior to advertising notice of intended distribution.
The Capital Gains Tax Estimation Tool will allow Executors, Administrators, Next of Kin and Beneficiaries to estimate if Capital Gains Taxes will apply based on the intended distribution or how best to do so with minimal impact.
The simplyEstate Beneficiaries Information Leaflet will be a key document to help illustrate to Beneficiaries and family members what the estate administration involves. The document will help educating all parties about the process and explain some key elements that are important to know. This will benefit the Executors and Administrators to set clear expectations with everyone from the start and achieve more favourable outcomes.