Last updated: November 2019
It's comforting to know that your family is well looked after should anything happen to you.
Being proactive about estate planning will allow your family to deal with your estate according to your wishes in case of illness, accident or death. Our three comprehensive and affordable Estate Planning Services provide you with everything you need to be certain your family is looked after in the best possible way.

Capture and store all your wishes and important information safely online. Save your family from having to make difficult decisions and help them execute your wishes.

Create a Last Will & Testament to formalise who should take care of your estate and who will inherit. Be confident everything will be executed according to your wishes.

Make sure the nest egg for your children and later generations you worked so hard for isn't eaten away by unforeseen costs when you pass away with the right insurance.
Help your Family by
making your wishes known

Use simplyEstate's tools to store your wishes, decisions and critical information in one place.
Invest 2 hours
Save your Family 50 hours
& $500 – $2,0001
Service Provider Details (for one-click simplyNotify2 Service)
Online Account Details
Representative Details
Health & Care Wishes
Organ Donation Wishes
Funeral Wishes
Authorised Contacts
Receive tailored Life Insurance quotes
Receive tailored Funeral Insurance quotes
Protect your Family with
a fully organised estate
Use simplyEstate's Will Instruction Tool to help you formalise your wishes.
Invest 2 x 2 hours
Save your Family 90 hours
& $2,000 – $15,0001
Last Will & Testament Instruction Tool (expedite the time with your lawyer by being ready and save up to $1503 when drafting your Will)
Personalised support for
complete peace of mind
Use simplyEstate's personalised assistance to help plan and administer your estate.
Invest 2 x 2 hours
Save your Family 120 hours
& $4,000 – $20,0001
Personalised Estate Planning & Administration assistance for you and your Family4
One-click simplyNotify Service
simplyEstate Administration Tools & Checklists
simplyNotify allows your Family or Personal Representative to inform all your nominated service providers about your death and request immediate cancellation of all services to save money with a single click.
simplyEstate Administration Tools & Checklists allows your Family or Personal Representative to administer your estate more efficiently.
If you are not entirely happy with our Estate Planning Service, we will refund you in full if cancelled within the first 30 days.
Refer to our Terms & Condition here.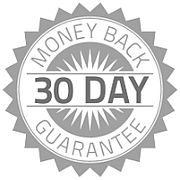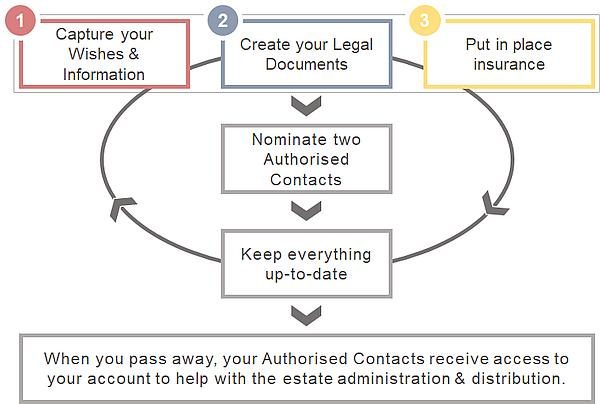 Once you have decided to purchase the service best suited to your needs, you simply login and complete all the estate planning areas in your own time.
You will nominate two Authorised Contacts who will be informed by simplyEstate with a certificate and a secret identification code.
Whenever your circumstances change, you can review and update the information anytime to make sure it is up-to-date.
In case of illness, accident or death, simplyEstate will provide login access to your Authorised Contacts after completing the simplyEstate authentication process, so they can make sure your estate is administered according to your wishes.
1Stated savings are estimates only and depend if the estate administration will be undertaken by your family or a professional. The stated financial savings are made up of professional services fees including but not limited to legal, executor and accounting services, bill payments that would no longer be required but were not cancelled in time, late fees, dispute litigation and exclude any insurance policy payouts including but not limited to life and funeral insurances.
2simplyNotify is a tool provided by simplyEstate as part of the Estate Administration service offering. The notification service relies on the Estate Planning Member having captured all their service providers to allow their family or personal representative to issue notice of death to all with one click and request immediate termination of services to save money. This service is separately sold to Estate Administration Members and is not included in the Basic and Essential Estate Planning Services as outlined on this page. This service is included in the Assisted Estate Planning Service as outlined on this page.
3Estimated savings of $150 is based on legal fees being reduced by approximately 30 minutes by preparing your instructions hence reducing the need for a lawyer to discuss basic information about the purpose, function and options of a Last Will & Testament and taking down your beneficiaries' details by making these available beforehand.
4Complimentary Estate Administration Support by simplyEstate as part of the Essential Estate Planning Service as outlined on this page is restricted to two hours. Additional hours can be purchased separately by Estate Administration Members as required. simplyEstate will be able to support an Estate Planning Member's family or personal representative by providing an overview of the administration process, recommend a specialist where required or bespoke administrative tasks to which simplyEstate must agree to at the time of request by the surviving family or personal representative.
Refer to our full Terms & Conditions here.



All major cards accepted via Secure PayPal Checkout