Australia's #1
Deceased Estate Administration Platform
 – Perth WA | Sydney NSW | Melbourne VIC | Brisbane QLD –
Estate Administration made simple
✓ Cost and time effective
Free Download

Please provide your details to receive the Free Executor & Administrator Starter Kit via email straight away.
We will not share your details as per our Privacy Policy.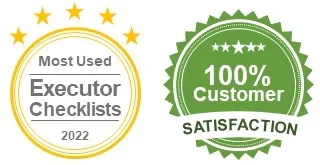 "I wish I'd found your site earlier in the process – it is incredibly useful, clear and easy to understand. I am most impressed with your customer service and helpfulness."
Alison Bird
Melbourne VIC
"This online guide and the affordable tools were invaluable. They gave me the confidence to act as Executor. I personally recommend this team to any of my friends that is facing this daunting task."
Chris Quinn
Townsville QLD
"I was blown away by the tools and procedures provided here at such an affordable cost. I used the Executor support service and spoke with Stephan who was incredibly generous with his knowledge and time."
Isabella Leifi
Melbourne VIC
The Deceased Estate administration involves over 200 tasks and decisions.
*The cost and time savings for Executors or Administrators to administer a Deceased Estate are indicative only and vary depending on the size and complexity of each Deceased Estate including but not limited to the number of Beneficiaries, asset structure, number of property and family structure. The times assume a simple Estate and exclude legal disputes and litigation.
by answering a few simple questions.
100% Customer Satisfaction