Deceased Estate Administration Guidance
for Perth, Sydney, Melbourne & Brisbane
Full control & oversight
Cost & time effective
Step-by-step guidance
Your choice of support
Dear Executors, Administrators and Next of Kin
At simplyEstate we understand how difficult the time after the loss of a loved one can be – we send you our condolences.
The time needed to deal with a loss is often interrupted by the immediate necessity for funeral planning and deceased estate administration. The administration surrounding a death can be overwhelming at first and not everyone can or wants to afford full support which can cost thousands of Dollars.
This is why simplyEstate – Australia's first deceased estate administration platform – was created. It allows Executors, Administrators and Next of Kin to work through the deceased estate administration online, from anywhere and anytime.
simplyEstate would be happy to support you through the deceased estate administration process in the simplest possible way.  Please contact us via email or book your free first phone appointment if you wish to speak to us – we're here to help.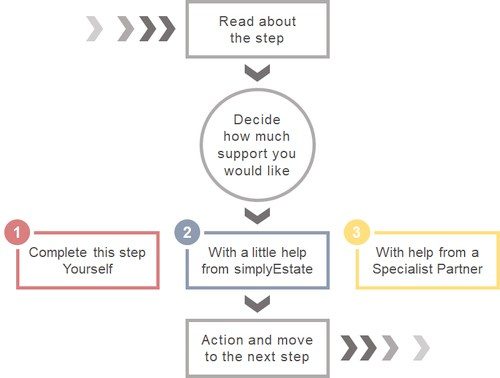 simplyEstate provides Executors, Administrators, Next of Kin and Beneficiaries with the most common information after a loss in one place, online and for free. The Process Guide allows you to work through the deceased estate administration process in your own time and in a structured way.
You have full control and decide at each step how much you want to do yourself, if you want support from us or from a Specialist Partner close to you, anywhere in Perth, Sydney, Melbourne and Brisbane.
Answer a few simple questions to help us find out where you should start by clicking on each answer.
Find out more by clicking on the relevant topic.
Still Unsure Where to Start?
First phone appointment free

simplyEstate's Phone Appointments allow you to discuss the deceased estate administration. We will provide general guidance but not specific advice as per our Terms & Conditions.
We believe in making Deceased Estate Administration simple
simplyEstate is a social enterprise with a vision to be Australia's number one platform for estate planning and administration. We want to educate families about and simplify the deceased estate administration process.
simplyEstate aims to provide clear guidance when navigating the deceased estate administration and demystify some of the fears and complexities. We want Australian families to be confident when administering an estate, engaging with our carefully selected Specialist Partners across the country and dealing with all types of organisations.
A loss of a loved one can be one of the most confronting and difficult times and our mission is to provide everything needed to administer an estate in the simplest, cost and time effective way.
We will not share your details. By using this form you agree with the storage and handling of your data by this website as outlined in the Privacy Policy, which is available here.
"simplyEstate has helped me and my family during a very difficult time after the loss of my mother. We were lost initially and don't know how we could've managed without this excellent resource, thank you very much!"

Jane Winters
Perth
"It is a lot of materials at first but I quickly understood why. estate administration can be tricky but thanks to simplyestate, we were able to deal with my brother's affairs in a a few months. Thank you for your help…"

Maria Stamoulis
Sydney
"This is a very useful guide! As the Executor of a family friends' estate, this was my go-to place for information and the services provided by the recommended tax accountant and estate lawyer was great."

Andrew Zhao
Melbourne