Simple Inventory List
for Probate.
Which assets form the Estate?
What to prepare for Probate?
How to calculate the Value?
Simple Inventory List for Probate
Did you know that you will need a complete Inventory List for Probate application showing all of the deceased person's assets and liabilities? Our probate accounting spreadsheet allows Executors to capture every bank account, property and credit card to automatically calculate what is part of the Estate based on ownership and determine the total value to apply for Grant of Probate or Letters of Administration.
"This online guide and the affordable tools were invaluable.  They really helped me understand what needed to be done. They gave me the confidence to act as Joint Executor. The Beneficiaries were given a clear overview of my late mother's estate value. I found using the assets and liabilities spreadsheet easy and intuitive."
Chris Quinn
Townsville
"I was blown away by the tools and procedures provided here at such an affordable cost.  I wish I had found this service sooner.  I thoroughly recommend this website, the tools and service"
Isabella Leifi
Melbourne
"I downloaded all Checklists & Tools, which proved very useful. It allowed me to keep all expenses of my late mother's estate organised. It was easy to pay and download and wish I had known about simplyEstate sooner."
Brian Crowley
Perth
Save up to 99 hours or $900 in Lawyer Fees
"We believe Executors should successfully administer an Estate without going in circles by using our Guide, Checklists & Tools."
Save 99 hours or $900 in lawyer fees1
Important Documents Checklist
Home Contents & Personal Belongings Inventory
10 Important Tasks to Finalise & Distribute the Deceased Estate
Assets & Liabilities Inventory
Inheritance Assessment Tool (Intestate – Without a Will)
Beneficiary Inheritance Guide
Estate Distribution Letter Sample
Testamentary Costs & Executor Expense Tracker
Executor & Administrator Timesheet
Letter of Authorisation – Banks & Financial Institutions
What the Assets Inventory Looks Like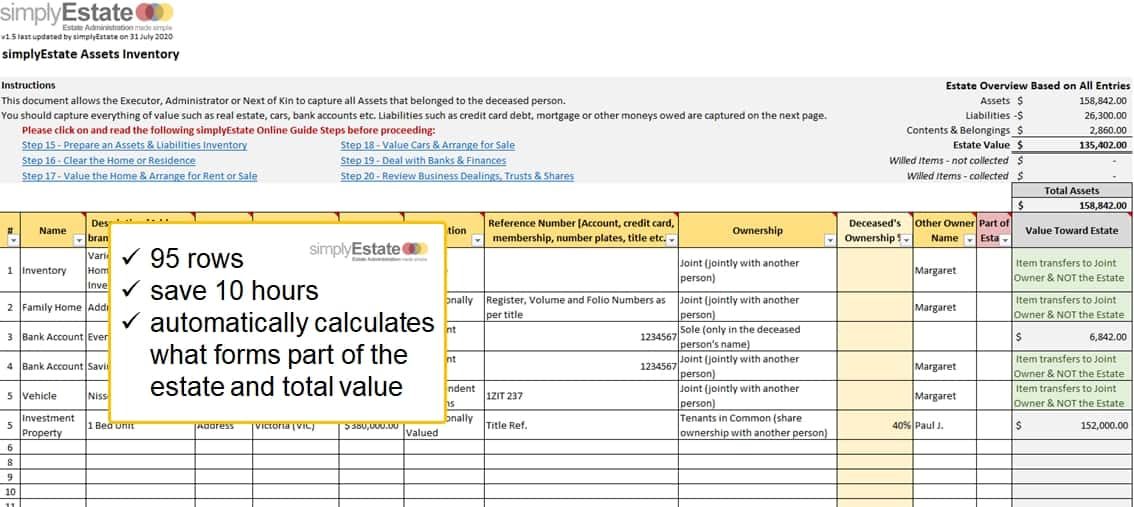 Free Downloads

Please provide your details to receive: Free Checklists & Tools.
We will not share your details as per our Privacy Policy.