Last updated: February 2020
How to Administer a Deceased Estate
It can be overwhelming after experiencing a loss in the family, we are here to help.
The time needed to deal with a loss is often interrupted by the immediate necessity for funeral planning and deceased estate administration. Knowing where to start or where to find guidance can be helpful.  The estate administration process can be summarised in seven main areas – click to find out more:
Answer a few questions to help us find out where you should start by clicking on each answer.
Estate Administration Services
First phone appointment free

simplyEstate's Phone Appointments allow you to discuss the deceased estate administration. We will provide general guidance but not advice as per our Terms & Conditions.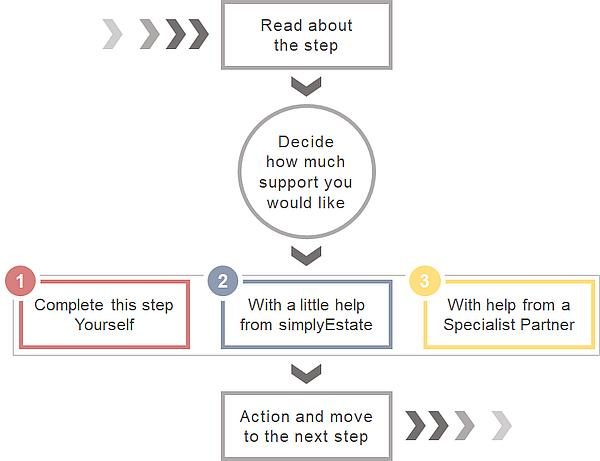 The Process Guide allows you to work through the deceased estate administration process in a structured way.
You have full control and decide at each step how much you want to do yourself, how much support you want from us or from one of our carefully selected Specialist Partners across Australia near you.
"I wish I'd found your site earlier in the process – it is incredibly useful, clear and easy to understand. I am most impressed with your customer service and helpfulness."
Alison Bird
Melbourne
"It is a lot of materials at first but I quickly understood why. estate administration can be tricky but thanks to simplyestate, we were able to deal with my brother's affairs in a a few months. Thank you for your help…"

Maria Stamoulis
Sydney
"simplyEstate has helped me and my family during a very difficult time after the loss of my mother. We were lost initially and don't know how we could've managed without this excellent resource, thank you very much!"

Jane Winters
Perth