Last updated: October 2021
Deceased Estate Administration Guide
Executors and Administrators often don't know where to start or what to do next. We can help you.

Use Australia's most comprehensive deceased estate administration process guide to learn about the estate administration and know what you need to do. simplyEstate helps you find out where to start and what to complete next so you can work through everything in your own time.
Deceased Estate Administration Overview
The estate administration process is made up of eight main areas. Click on the item that you haven't completed yet to find out more:
Answer a few questions to find out where you should start.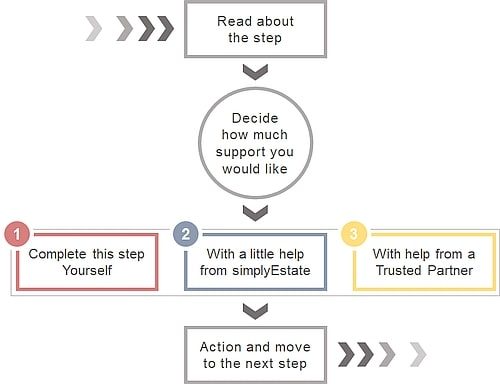 The Process Guide allows you to work through the deceased estate administration process in a structured way.
You have full control and decide at each step how much you want to do yourself, how much support you want from us or from one of our carefully selected Specialist Partners across Australia near you.
"Losing a loved one is emotionally very difficult. Being faced shortly after with another difficult task as Executor can be overwhelming, especially if the estate is complex.  Having the simplyEstate guidelines at hand made the task much easier to navigate with confidence and accuracy."
Anthony Frizza
Melbourne VIC
"By far the most comprehensive guide to navigating the Steps that need to be taken after the loss of a Loved one.  I was able to follow these steps after my Mum passed in March 2020, although wish I had them right from the very start.  As trying to move forward without the guidance is difficult, especially while grieving the loss of a loved one.
You won't find this information anywhere, even on Government websites which is where it should be."
Ben Jones
Perth WA
"A fantastic resource, it has been my gospel during a recent family estate administration process. I entered the task as a keen but novice executor  and soon found that I needed reliable guidance and resources. This resource allowed me  to simply cross things off if complete or not relevant  or to read and understand  if they were relevant. Thanks for your effort and diligence in putting this information in the public domain it was extremely comprehensive and very very useful."
Kevin Dickinson
Brisbane QLD