5. How To Plan Your Estate
Did you know that 7 out of 10 Australians put off estate planning just because they don't know where to start?
We're glad to say that it's not that hard with simplyEstate's online Estate Planning accounts. Being proactive will allow your family to make the best decisions for you and your estate should they need to step in. Find out how easy it is below.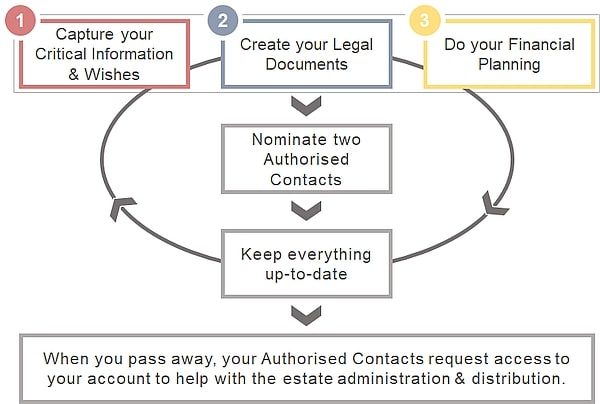 Simply purchase an account that suits you and start building your estate plan in your own time and comfort of your home. You can update your information whenever your circumstances change to make sure everything is up-to-date.
Should something happen to you, simplyEstate will provide login access to your Authorised Contacts after successfully completing our stringent verification process, so they can make sure you and your estate are looked after according to your wishes.
Help your Family by
making your wishes known
Store your wishes, decisions and critical information in one place and help your family make the best decisions should they need to.
Save your Family 50 hours
& $500 – $2,000
Protect your Family with
a fully organised estate
Formalise your wishes simply online with a simple Will and help your Executor distribute your estate as you wish to avoid disputes.
Save your Family 90 hours
& $2,000 – $15,000