Sharrock Pitman Legal is a boutique-size law practice, serving the legal needs of the wider community, as well as businesses and the 'not for profit' sector, for more than 50 years.
Our team are recognised by the Law Institute of Victoria as Accredited Specialists in Wills & Estates, Commercial Law, Property Law, Commercial Litigation and Family Law. In 2018, the firm was honoured to be named Boutique Law Firm of the Year in the Victorian Legal Awards held by the Law Institute of Victoria.
As Probate Lawyers, our role is to make sure that you do not have to stress over the legal side of a deceased estate. We assist customers by making sure all estates are administered professionally, carefully and swiftly. Our experienced team of Lawyers in this area comprises our Managing Principal Mitchell Zadow, Accredited Wills & Estates Specialist Binay Prasad and Lawyer Caroline Jeanne.

We can be trusted to provide you with a caring approach while processing all matters concerning the administration of estates in an expeditious and cost effective manner. If probate is needed, we can obtain a Grant of Probate. If there is no Will, Letters of Administration can be obtained. If a Will is challenged, then we can conduct any court litigation which might ensue, either protecting the executors and beneficiaries or representing the person who is seeking a share of the estate. We regularly act for parties to proceedings in the Supreme and County Courts of Victoria.

Experience the difference of solutions and service second to none, whilst receiving real value and benefit all at an agreed fixed price. Our expertise includes estate administration, probate, letters of administration, estate disputes and estate planning.
We aim to serve you with solutions that are always innovative, practical, proactive and strategic, combined with exceptional service. As our customer, you will receive the benefit of our Customer Care Charter, which provides you with professional service standards on which you can depend.
All our legal work is undertaken at fixed prices, which are fair and reasonable and agreed with you up front, instead of 'guesstimates' based on hourly rates and six minute units.
❯ Establish Validity of Wills and Executor or Administrator Role
❯ Determine Beneficiaries
❯ Terminate and Negotiate Commercial Contracts and Obligations
❯ Manage Insolvent and Bankrupt Estates
❯ Claim Superannuation Death Benefit
❯ Claim Insurance Death Benefit
❯ Liquidate, Sell or Hand-over Business of Deceased Director
❯ Apply for Grant of Probate
❯ Apply for Grant of Letters of Administration
❯ Respond to Court Requisitions
❯ Set-up Estate and Transfer Assets
❯ Liquidate and Set-up Testamentary & Other Trusts
❯ Review Estate Administration prior to Finalising & Distributing
❯ Draft Beneficiary Settlements & Release
❯ Provide End-to-end Administration Service
❯ Support with Contentious Matters & Litigation
❯ Support with Dispute Resolution
Accreditations & Associations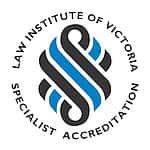 The Law Institute of Victoria issues specialist accreditation for specific areas of practice.
Request Call Back

Please provide your details and a lawyer from Sharrock Pitman will contact you to discuss your situation.
We will only share your details with this Trusted Partner. By using this form you agree with the storage and handling of your data by this website as outlined in the Privacy Policy, which is available here.