Who Will Take Care of Your Estate?
5 Things You and your Family must know about Estate Planning
Join us for a free Estate Planning Seminar where we will share some simple tricks.
You may or may not already have a Will in place to protect your family and your estate. Either way, there are some other simple preparations that can be decided and communicated to give your family comfort knowing things are taken care of.
Make use of this great opportunity to learn about five simple things you can prepare:
What does estate administration involve after someone passes away and how can I prepare?
What critical information should I store carefully?
What decisions can I make now and how do I make my wishes known?
What are important considerations for my last will & testament?
Is my superannuation set-up correctly to benefit me and my family?
Registrations are essential and a registration link will be available once a new date is available due to coronavirus measures. If you like, you can leave your contact details and we will let you know once a new date was scheduled.
Free Online Education Series
Watch our five-part education series online to learn about important insights, common myths and practical tips for simple estate planning preparations you and your family can make now.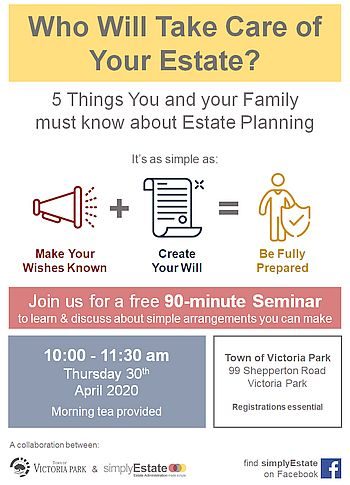 Thursday, 30 April 2020
10:00 – 10:30am
Registrations are essential

Town of Victoria Park

99 Shepperton Road
Victoria Park WA 6100