7 Most Important Answers About Estate Planning
Join us for a free Estate Planning Seminar where we will provide insights, clear-up common myths and answer the following important questions:
Why do 8 of 10 families struggle with administration after a loss?
How does asset ownership influence who inherits what?
Is a Last Will & Testament really all I need?
What do 9 of 10 West Australians do wrong about estate planning?
Why is the family home often the reason for family relationships to break?
Why should you capture critical information and wishes?
What simple steps can save your family up to 120 hours?
Registrations are essential and a registration link will be available once a new date is available due to coronavirus measures. If you like, you can leave your contact details and we will let you know once a new date was scheduled.
Free Online Education Series
Watch our five-part education series online to learn about important insights, common myths and practical tips for simple estate planning preparations you and your family can make now.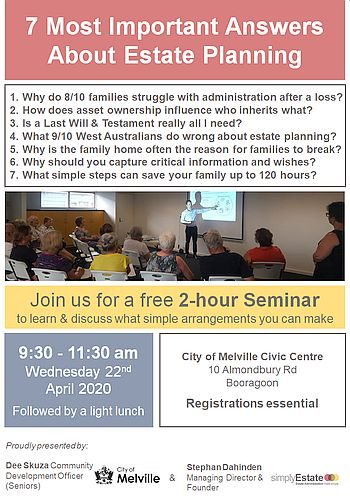 Wednesday, 22 April 2020
9:30-11:30 am
followed by a light lunch
Registrations are essential.
City of Melville Civic Centre
10 Almondbury Rd
Booragoon WA 6154