Who will take care of your estate?
Put in Place a Simple Estate Plan & Give Your Family Peace of Mind
Last updated: November 2019
Join us for a free Workshop to put in place an estate plan on a computer.
We know it isn't an easy conversation, but have you ever wondered how your family would find out about your decisions and wishes should you no longer be able to communicate these due to bad health or passing away?
Make use of this great opportunity to join our workshop where we will:
Discuss what estate administration involves after someone passes away and how you can prepare.
Capture basic information, so your family has access and can expedite the estate administration to save time and money.
Capture wishes and decisions so you remove the guesswork and your family knows what to do in difficult situations.
Capture your health & care wishes, so these are available when your family needs to make a decision for you.
Complement additional information and wishes that aren't covered in your Will if you have one.
Answer any other questions you may have.
Request feedback.

Registration is essential – Workshop spots are limited.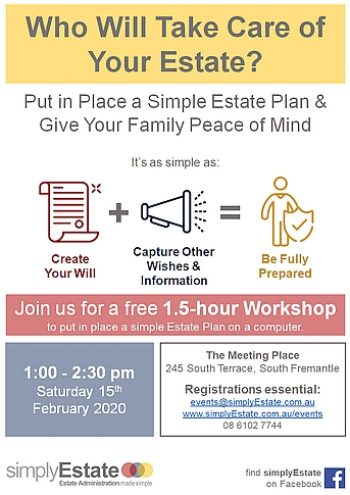 Saturday, 15th February 2020
1:00 – 2:30pm
Registrations are essential to the left.
The Meeting Place
245 South Terrace
South Fremantle WA 6162